In conjunction with the Township of Denville, The Denville Board of Health, the Denville Office of Emergency Management, and the Denville Volunteer Fire Department, the Denville Police Department created this page as a resource to obtain validated information on the ongoing COVID-19 pandemic. This page will be updated as often as possible with pertinent information from each of the aforementioned organizations affecting the Township. Please continue to follow the guidance of the Centers for Disease Control (CDC) and the various orders issued through the state, county or township. Updates regarding NJ Executive and Administrative Orders can now be found in the menu to the right. We want to wish everyone and their families good health throughout this crisis.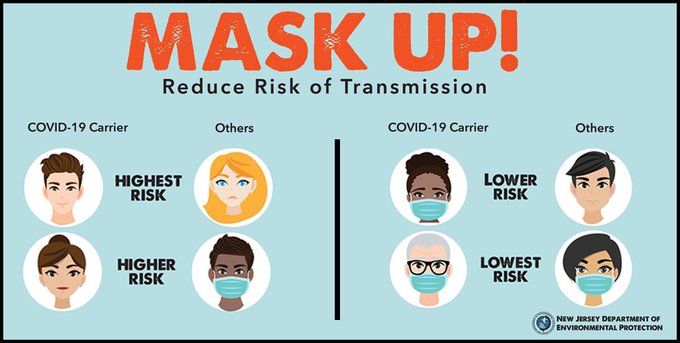 ---
04/29/21: Effective immediately, the Vaccination Megasite located at the Rockaway Mall is accepting walk-ups between the hours of 8am and 3pm for people age 16 and older (parent/legal guardian required to be present for those under 18 years of age). Pre-registration through Atlantic Health to schedule an appointment is still the preferred method to receive your vaccine.


---
04/19/21: Information on the NJEDA Small Business Emergency Assistance Grant Program.


---
04/12/21: Information regarding funeral assistance from FEMA.


---
03/09/21: The Township has issued Local Emergency Order 2021-1. This order allows local licensed food establishments to allow for dining on public sidewalks beginning on 03/15/21 upon approval of an application submitted to the Health Department.


---
01/15/21: Updated Vaccine Registration Information:


On Wednesday, January 13, 2021, the State of New Jersey modified those eligible to receive the COVID-19 Vaccine to include individuals over the age of 65 and those individuals between the ages of 16 and 64 who have specific underlying health issues. This was a significant departure from the initial Phase 1A Category of individuals, who are currently being served at the Morris Regional Vaccination Center in Rockaway. The logistics involved in implementing such a change are significant and predicated upon the availability of the vaccine, the implementation of coordinated registration and appointment technology, and the expansion of professional and medical staff. The availability of the vaccine is key. As the Governor has repeatedly stated, the demand in New Jersey far exceeds supply, which is clearly the case for the Morris Vaccination Center.
In an effort to assist Morris County residents, a scheduling system has been established to sign up in order to be notified when appointments become available: Vaccine Appointments (atlantichealth.org). Based on vaccine availability, the individual will be notified when they are qualified to receive the vaccine AND when appointments are becoming available. Each individual will then be able to register for an open appointment.
The quick expansion of eligible persons has created more demand for the same limited supply. As such, the County has also established a COVID Hotline where further information can be obtained. This Hotline can be reached at 973-829-8250. The hotline is staffed 7 days a week, during normal business hours.

Additional information regarding the COVID-19 vaccine and its availability to residents can be found at:
https://covid19.nj.gov/pages/vaccine
---
01/08/21: The NJ Covid-19 Vaccination portal is now open for all residents to register to receive a Covid-19 vaccination. The portal may be accessed here:


---
12/07/20: Morris County announces COVID-19 Home Testing Kits are now available to residents.
- Press Release
- Online Registration


---
11/19/20: Local Emergency Order 7-2020 was issued by the Township closing/limiting use of Township parks.
- Local Emergency Order 7-2020


---
11/18/20: Various Information Sheets from the Centers for Disease Control:
- Back to College Tips
- Celebrating Thanksgiving
- Celebrating Thanksgiving / Consider Other Thanksgiving Activities
- Do Choose Masks That . . .
- Do Not Choose Masks That . . .
- Do It for Yourself and Your Friends
- How to Protect Yourself and Others


---
11/12/20: Information Sheets issued by the CDC on indoor and outdoor dining.
- Indoor Dining Guidance
- Outdoor Dining Guidance


---
07/08/20: Governor Murphy signed Executive Order 163, which requires the wearing of a facemask in outdoor public places when unable to social distance.
---
06/15/20: NJ Department of Health releases guidelines for the resumption of outdoor sports.


---
05/18/20: The following legislative changes were signed into law by Governor Murphy on 05/15/20:
- S2356/A3946: Provides relief for students enrolled in various state higher education financial aid programs and address the unique circumstances brought on by the COVID-19 pandemic.
- A3966: Authorizes the sale and delivery of alcoholic beverages by the holders of certain retail consumption licenses and concessionaire permits during the COVID-19 state of emergency.


---
05/07/20 : Stop COVID-19 Fraud Fact Sheet from Homeland Security Investigations


---
04/29/20 : The NJ State Association of Chiefs of Police, in cooperation with Prevention Awareness Networks, has released two COVID-19 informational videos. The videos contain basic information on the Covid-19 virus, what symptoms to be aware of and how to keep your family safe and healthy. One of the videos is geared toward an adult audience and the second is for younger children.
- Video for Adult Audiences
- Video for Younger Audiences
---
04/28/20 : If any Denville resident is experiencing food insecurity or having difficulty affording the basic necessities as a result of the COVID-19 crisis, Denville Social Services may be able to help. Please call 973-625-8300 ext. 269 for additional information.
---
04/21/20 : Public service announcement from the FBI regarding an increase in online extortion schemes during the COVID-19 pandemic.
- FBI PSA - Online Extortion Scams Increasing During the COVID-19 Crisis
---
04/08/20 : NJ Senator Cory Booker's office released a resource guide for New Jerseyans. The guide includes details on resources from the recently passed CARES Act, FAQs that may be helpful for Mayors/elected officials fielding questions from constituents or small businesses, links to additional resources and information throughout, phone numbers for hotlines and helplines for New Jerseyans and information on how to reach out to Senator Booker's office for assistance. The document will be updated regularly on booker.senate.gov/coronavirus.
04/08/20 : NJ Office of the Attorney General released guidance regarding remote on-line meeting platform safety.
- Cyber Safety Alert: Remote On-Line Meeting Platform Compromises
---
04/04/20 : The CDC has issued a recommendation that people wear masks in public in order to help stem the risk of community spread.
- Recommendation Regarding the Use of Cloth Face Coverings, Especially in Areas of Significant Community Based Transmission
---
04/01/20 :
- Message from Mayor Andes
- COVID-19/Novel Coronavirus Information for New Jersey Businesses
- The Coronavirus Relief Bill: Every Benefit for Small Businesses
- Emergency Assistance Eligibility Wizard
- NJEDA Announces New Initiatives to Support Businesses Impacted by COVID-19
- Facebook Small Business Grants Program
- What benefits or unemployment insurance are available to me if I have been impacted by the outbreak?
---
03/30/20 : Information and guidance on the Families First Coronavirus Response Act (FFCRA) from the United States Department of Labor (DOL).
---
03/29/20 : Information released from the Office of the Governor regarding mortgage relief during the COVID-19 pandemic and information from the NJ Supplemental Nutrition Assistance Program (SNAP) regarding benefits.
- Mortgage Payment Relief Press Release
- SNAP Assistance During Coronavirus
---
03/27/20 : Updated fact sheets and guides regarding COVID-19.
- COVID-19 Economic Relief Package (NJ Economic Development Authority/NJEDA)
- New Initiatives to Support Businesses Impacted by COVID-19 - NJEDA (Added 03/28/20)
- Third Stimulus Bill Provisions
- Instructions for Persons who Tested Positive for COVID-19
- Instructions for Persons who Tested Negative for COVID-19
---
03/26/20 : The garbage and recycling collection calendar remains unchanged during the current COVID-19 pandemic. Gaeta Recycling has reported a significant increase in the volume of residential solid waste and recycling as more residents are staying home around the clock (as recommended) in conjunction with the temporary closure of the Denville Recycling Center. This results in additional trips during the day to the solid waste and recycling transfer facilities, which may result in a delay in the normal time your garbage or recycling is collected. The crews from Gaeta are working late into the afternoon and early evening in an attempt to complete all the routes.

In the event your garbage or recycling is not collected on or before 7:30 PM on the day scheduled, please leave your garbage or recycling curbside and complete this online form. Gaeta will return to those streets that were missed first thing the following morning. We appreciate your patience during this time.
---
03/26/20 : Employees may report their employers if they are not following the guidelines of Executive Order 107 in one of two ways:
- Via a website:
https://covid19.nj.gov/violation
- Via phone: 2-1-1
Residents may also contact the Denville Police Department at 973-627-4900 ext. 9 if the business is located within Denville Township.
---
03/25/20 : Information on Businesses Resources from Rep. Mikie Sherrill's Office and a fact sheet for other business resources.
-
Rep. Mikie Sherrill's Website
-
Information Sheet
---
03/24/20 : The Morris County Health Department has prepared two flyers for essential businesses that remain open to educate their employees on COVID-19 and social distancing. These flyers may be printed and utilized by any businesses who wish to do so.
- Flyer:
Employee COVID-19 Fact Sheet
- Flyer:
Employee Social Distancing Fact Sheet

---
03/20/20 :
Message from the Denville Police Department - Update & COVID-19 Scams
- Graphic:
Six Feet Apart Please
(English)
- Graphic:
A Una Distencia Di 6 Pies Par Favor
(Spanish)
- Graphic:
Social Distancing - What does it mean?
(banner/English)
- Graphic:
Social Distancing - What does it mean?
(English)
- Graphic:
Distanciamiento Social - Que significa esto?
(Spanish)
---
03/18/20 :
Message from the Denville Fire Department
---
03/17/20 :
Message from the Denville Police Department - Response Guidelines
---
03/10/20 :
Information on COVID-19 from the Denville Health Department
- Fact Sheet:
Coronavirus Disease 2019 (COVID-19)
- Fact Sheet:
Share the Facts about COVID-19
- Fact Sheet:
Symptoms of Coronavirus Disease 2019
- Fact Sheet:
Stop the Spread of Germs

---
Bills enacted by the State of New Jersey Supporting Businesses and Employees


- NJ A3845 (20R) allows the Economic Development Authority to extend grants to small businesses impacted by the virus;
- NJ A3848 (20R) would prohibit employers from firing workers who need to take time off because of the coronavirus;
- NJ A3855 (20R) would require the state's departments and agencies to put information about accessing food on public notifications relating to public health emergencies;
- NJ A3861 (20R) would allow corporations to hold shareholders' meetings remotely, rather than in person, during a state of emergency;
- NJ A3865 (20R) would allow grocery stores to limit returns of goods purchased during the current public health state of emergency;
---
2-1-1 NJ's COVID-19 Information Hotline:

NJ residents may call 2-1-1 (or, 1-800-962-1253) at any time, 24 hours a day, to obtain general information on COVID-19.
In addition, you may text NJCOVID to 898-211 to receive text information on COVID-19 to stay informed. You may also text your zip code to 989-211 to receive live text assistance.
---
Domestic Violence Resources During COVID-19 Pandemic


During the period of COVID-19 court closures, applications for a Temporary Restraining Order may be filed with the local police department where (1) the victim resides or is sheltered; or (2) where the defendant resides; or (3) where the incident occurred. As such, if the victim lives or is sheltered within Denville Township; or, the defendant lives within Denville Township; or, the incident occurred within Denville Township, the victim may seek a temporary restraining order through the Denville Police Department.

If you are in need of domestic violence services you can contact any of the following resources:
- Morris County Family Justice Center at 973-829-4050 or www.Morrisfjc.org
- JBWS: 973-267-7520 or www.JBWS.org
- Safety, Support and Solutions for All: 24 hour hotline at 1-877-R U ABUSED (1-877-782-2873) / If you are Hearing Impaired, you can contact 973-314-4192
- Center for Non-Violence counseling programs at 973-539-7801


---
Addiction Recovery Services During COVID-19
(click graphic to view full size)